Photo by Ling Photography
As a Minnesota wedding officiant, I offer a range of services to meet a variety of needs. The following information are packages I put together that reflect the most common groups of services that couples request. This is by no means an all-inclusive list. If one of these packages just doesn't cut it for you, let me know and I'm sure we can put something together that meets your needs and budget.
Keep in mind that with all of these packages, you have unlimited opportunities to modify and personalize the ceremony in any way you see fit in order to make it your own.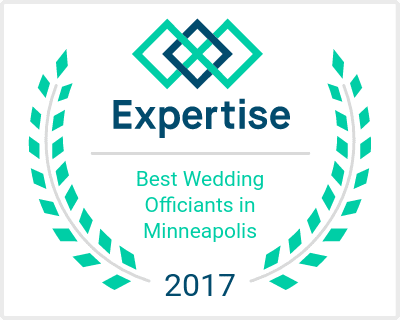 ---
Signature and Vows - $150
Signing of the marriage license with vows only - there is no ceremony involved, just the "repeat after me" part. This is typically just the Bride, Groom and witnesses, and takes just a couple of minutes.
---
Basic Ceremony - $450
Communication by phone and email
Quick rehearsal the day of the ceremony
---
Basic Plus - $480
Communication by phone and email
Quick rehearsal the day of the ceremony
One face-to-face planning meeting
---
Full Service Ceremony - $550
Communication by phone and email
Full rehearsal the day (or so) before your ceremony
Up to two face-to-face planning meetings
---
Travel
Any ceremony more than 30 miles from my home in Coon Rapids will have a $1.00 charge for each mile over 30
I have two online payment options:
If the amount you wish to pay by PayPal isn't listed above, you can pay any amount by clicking here paypal.me/gdunlop777
Credit Card
You can also pay securely online by
Credit Card here